In what year did you start playing roller derby?
2017
Is there a story behind your name?
The pub menu standard: bangers and mash. My mom is from England and I wanted my name to represent that part of my culture. As a blocker, I like to think I emulate the dish: hearty, heavy, and solid!
Did you have any previous athletic or skating background before starting roller derby?
I grew up attending birthday parties at the local rink (clutching the walls). I played soccer too, where I was always put in the goal because I was the biggest kid on the team. I learned to quad skate when I joined derby in 2017!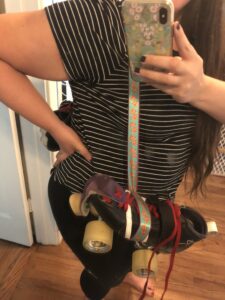 Tell us about your gear!
I made my skate leash myself! It has slices of pizza on it.
What's your favorite Orlando theme park ride?
Bluto's Bilge Rat Barges aka the Popeye water ride at islands of Adventure. Nobody ever wants to go on it with me but I love the chaos of being completely soaked for the rest of the day.
What's your favorite Orlando activity that isn't a theme park?
Plant shopping! We have so many great local plant shops and nurseries: BWH Plant Co, The Heavy, South Seminole Nursery, and Lukas Nursery are a few of my favorites.
Everyone loves restaurant recommendations. Which Orlando area restaurant would you tell people to check out?
Tamale Co, Zaza, Black Bean Deli, and Kelly's!
Into which Hogwarts house would you be sorted?
Ravenclaw