About WFTDA
The Women's Flat Track Derby Association (WFTDA) is the international governing body of women's flat track roller derby representing more than 450 member and apprentice leagues on 6 continents. The WFTDA sets the international standards for rankings, rules, and competition each year and provides guidance and resources to the sport of flat track derby.
The mission of the WFTDA is to govern and promote the sport of flat track roller derby and revolutionize the role of women in sports through the collective voice of its member leagues around the world.
The WFTDA is a 501(c)(3) tax-exempt nonprofit organization, democratically-run by its Member Leagues, and governed by an elected, volunteer Board of Directors consisting of Member League Representatives.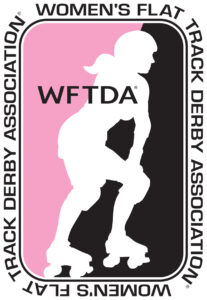 ---
Derby 101
The sport of roller derby was first conceived in the 1930s, and was played on a banked track and was popular in the United States until it fizzled out in the 1970s. In the early 2000s, modern women's roller derby got its start in Austin, Texas. Starting with the Texas Rollergirls, flat track roller derby leagues began forming as businesses run by the athletes themselves. The flat track version of the sport spread like wildfire in subsequent years, as the ability to mark track boundaries on a skating rink floor or other venues, rather than building and storing a large banked track, made it possible to play the game just about anywhere. Today, several hundred leagues exist all over the world.
While the original version of the sport eventually became more of a spectacle with fights and other staged theatrics, today's roller derby is a legitimate sport played by true athletes.