In what year did you start playing roller derby?
2019
Is there a story behind your name?
I really do love candy and yes, candy corn is delicious! So while my name is really a play on my last name, I do love the little waxy cones.
Did you have any previous athletic or skating background before starting roller derby?
I'm an 80's kid and spent my elementary and middle school years hanging out at the rink. 🛼🛼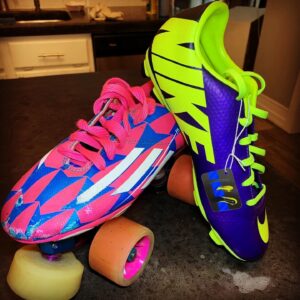 Tell us about your gear!
My hubby is a tinkerer so I'm on a ton of custom gear. My skates are soccer cleats that he converted to skates and has done some extra work on to make sure they are super light. I always skate in custom padded shorts which he also made me. Besides that, I can say that I love my hockey helmet WITH a shield. It's saved my face more times than I can count.
What's your favorite Orlando theme park ride?
I love Manta at SeaWorld.
What's your favorite Orlando activity that isn't a theme park?
I love walking and tend to visit Cranes Roost Park and Lake Eola often to get a few laps in.
Everyone loves restaurant recommendations. Which Orlando area restaurant would you tell people to check out?
I usually eat at home but do enjoy going out for things that I can't cook well, like Thai food. Thai Cuisine Restaurant is a staple with great food and a delightful staff.
Into which Hogwarts house would you be sorted?
Hufflepuff