In what year did you start playing roller derby?
2012
Were you previously a member of another league?
Sac City Rollers (now Sacramento Roller Derby) in Sacramento, CA
North Star Roller Derby in Minneapolis, MN
Is there a story behind your name?
I went to Iowa State University. The mascot is the Cyclones and the student cheering section is referred to as "Cyclone Alley"
Did you have any previous athletic or skating background before starting roller derby?
I fouled out of too many basketball games, so I ran track. As for skating, I could generally propel myself forward while upright on skates when I decided to start playing roller derby. I didn't know how to stop or do anything else.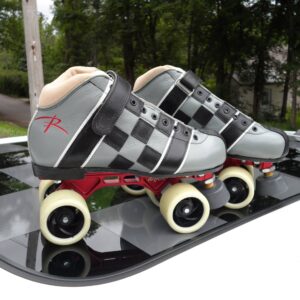 Tell us about your gear!
I used to live about an hour away from the Riedell plant. When I was ordering new skates, I had the opportunity to go the facility, get a tour, meet one of the boot makers, and have boots custom made for my feet. They ended up being a frankenstein of Antik AR-2 and the Riedell 965. They also match my car!
We all end up in the penalty box at some point. Which penalty is your favorite and why?
Stop block! If I get a stop block, it means I'm doing my job too well!
What's your favorite Orlando theme park ride?
Tower of Terror!
What's your favorite Orlando activity that isn't a theme park?
Any of the events going on in Celebration or seeing live comedy at Orlando Improv.
Everyone loves restaurant recommendations. Which Orlando area restaurant would you tell people to check out?
Tin & Taco
Into which Hogwarts house would you be sorted?
Gryffindor