In what year did you start playing roller derby?
2019
Is there a story behind your name?
I think it's pretty obvious, though my number is the area code for the entirety of my home state. Delaware!
Did you have any previous athletic or skating background before starting roller derby?
I didn't get on skates until my late 20s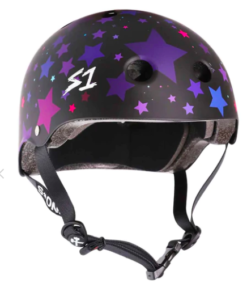 Tell us about your gear!
I really like my helmet, it's not special, just really cute.
We all end up in the penalty box at some point. Which penalty is your favorite and why?
It's not my favorite, but I end up there for elbows/forearms a lot. I'm not proud of it.
What's your favorite Orlando theme park ride?
It is a tie between Hagrid's and Velocicoaster
What's your favorite Orlando activity that isn't a theme park?
Existing , I love Orlando.
Everyone loves restaurant recommendations. Which Orlando area restaurant would you tell people to check out?
Soupa Saiyan
Into which Hogwarts house would you be sorted?
Hufflepuff