In what year did you start playing roller derby?
2022
Is there a story behind your name?
I'm a big alternative music fan, and Radiohead's 'OK Computer' holds a special place in my heart. As for my number, I love history, and 1917 was the year of the Russian Revolution and the year the U.S. entered World War II, both pivotal (see what I did there?) moments in history.
Did you have any previous athletic or skating background before starting roller derby?
Only skating experience previously was roller rink parties as a kid, complete with the disco ball and limbo stick! Off skates, I like scuba, ballet, cycling, jogging, and kettlebell.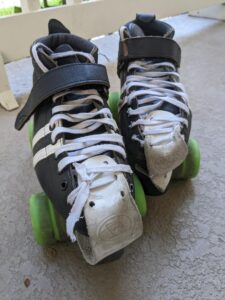 Tell us about your gear!
My skates come from a friend, who's son is in Cub Scouts with my son. She retired from playing and when I told her I needed good skates as a new player, she said "try on mine!". They fit like a glove and the rest is history!
We all end up in the penalty box at some point. Which penalty is your favorite and why?
Track cut! In the heat of the moment, I sometimes loose track of which way I'm going 🙂
What's your favorite Orlando theme park ride?
Haunted Mansion at Magic Kingdom
What's your favorite Orlando activity that isn't a theme park?
Swimming anywhere where alligators (usually) aren't and walking or cycling the many trails around my town of Celebration, FL.
Everyone loves restaurant recommendations. Which Orlando area restaurant would you tell people to check out?
El Tenampa Mexican Restaurant in Kissimmee
Into which Hogwarts house would you be sorted?
Ravenclaw