In what year did you start playing roller derby?
2006
Were you previously a member of another league?
Revolution Roller Derby – Mom and Pop Militia (co-ed) – REMX (coed) – ACR Hunnies – Beachside Brawlers – Sintral Florida Derby Demons – Thunder City – Deadly Rival Banked Track Roller Derby
Is there a story behind your name?
I always went by "KT"… I was 18 and working at a Hip Hop store in Milwaukee, and a co-worker asked me…"What does KT stand for, Killa Thug?" BOOM my alter ego was born.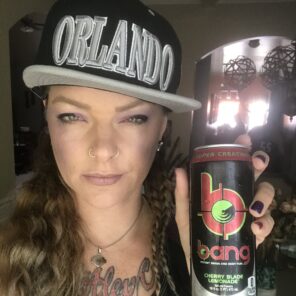 Tell us about your gear!
Skate tools I can't live without -Electrolytes, and Bang energy drink.
We all end up in the penalty box at some point. Which penalty is your favorite and why?
It wasn't me!
What's your favorite Orlando theme park ride?
The Sling Shot
What's your favorite Orlando activity that isn't a theme park?
Ale House Prime Rib Thursdays
Everyone loves restaurant recommendations. Which Orlando area restaurant would you tell people to check out?
Hard Rock Cafe